Motorola stole the crowd when it unveiled it's new stylish Android-powered smartphone, the Motorola Atrix 4G. The Atrix 4G sports a 4-inch qHD display, dual-core Tegra 2 processors, 1GB of RAM, 16GB of internal storage (capable of expanding up to 48GB), Android 2.2 froyo (upgradable to Gingerbread) and Motoblur.
What made the Atrix a darling of the CES floor is it's accessories that included docks that can transform your Atrix 4G to a desktop or a notebook. There's also an HD dock that allows you to connect your Atrix 4G to display HD video, pictures, etc on your television.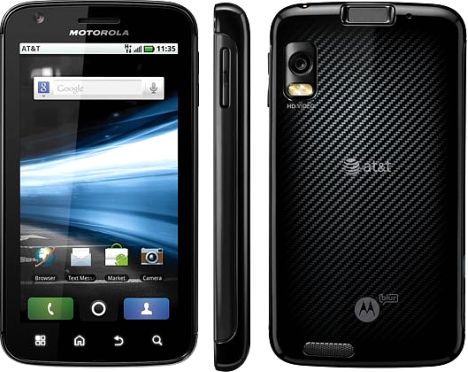 Features and specs of Motorola Atrix 4G:
4-inch qHD display (960 x 540 pixels)
1 GHz CPU processing speed
1GB of RAM and 16GB internal storage
Dual-cameras
Connectivity Options – support for AT&T's HSPA+ network
Battery capacity: massive 1930 mAh lithium-ion battery
microSD card slot and 10.9mm handset
Fingerprint scanner
Google's Android operating system
The new Motorola Atrix 4G comes with slim which measures 10.9 mm thick only and will available through leading retailer first quarter of 2011.