Google has unveiled the highly anticipated hardware refresh for it's mildly successful Nexus 7 tablet. The all new 7-inch tablet sports a much more powerful a quad-core Snapdragon CPU, 2GB RAM, 1920 x 1200 display and the latest version of Android JellyBean, Android 4.3.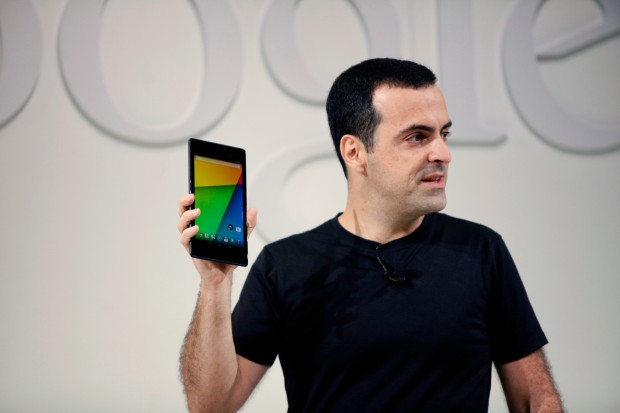 A few of the major complaints about the Nexus 7 is the somewhat sluggish Tegra 3 processor and the anemic display resolution. By bumping up both specs and throwing in a generous amount of RAM, the Nexus 7 2.0 should run circles around it's previous iteration. Now sporting a 323 ppi display, the 1920 x 1200 resolution should make reading quite a bit more pleasurable on the device. If you're worried that the larger screen resolution and more powerful SoC will drain the battery fret not, Google assured that the new Nexus 7 features 9 hours of battery life for HD video playback, and 10 hours while surfing the web.
Google – Asus Nexus 7 2.0 [2013 model] specs:
7-inch IPS LCD display @ 1200×1920 pixels, 323ppi
Qualcomm Snapdragon 1.5GHz quad-core CPU
Adreno 320 Graphics
2GB RAM
16GB and 32GB internal memory
5MP rear-facing camera, no flash
1.3MP front-facing camera
WiFi 802.11 b/g/n
Bluetooth 4.0, GPS, NFC
Android 4.3 Jellybean
One of the prime reasons for the Nexus 7 selling so fast is the price and the new model doesn't disappoint — the original 16GB launched at $229 then dropped to $199 when the 8GB version was struck off the market. The 16GB WiFi-only variant will fetch $229 and the 32GB model for $269 – both models will be available on the Google Play Store starting next Tuesday. Other countries, including the UK, Germany, Japan, Canada, Spain, France, Australia, and South Korea will get the tablet in the coming weeks.
For those looking for a bit more in terms of connectivity, there will also be an LTE equipped variant of the 32GB model and it will be available for $349 in the near future.