Microsoft has released the public BETA of Internet Explorer 9 and it is available for download to all Windows Vista and Windows 7 users.
IE9 packs a lot of enhancements and features such as HTML5 support, hardware acceleration graphics rendering using Direct2D, hardware accelerated text rendering using DirectWrite, hardware accelerated video rendering using Media Foundation, new streamlined and simplified address and navigation bar, faster JavaScript, better CSS3 compliant support, SVG1.1 standards support, embedded ICC v2 or v4 color profiles support via Windows Color System, and more.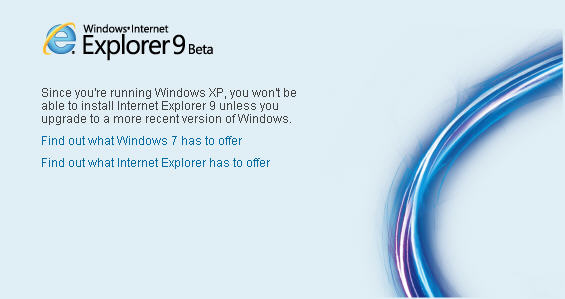 Internet Explorer 9 (IE 9) sports a new high-speed engine called Chakra, greatly improving its performance. On the surface, IE9 is sporting a new novel, clear interface that may put off some due to the odd placement of the tabs.
If you're looking to install IE9, you should take note the following items:
IE9 is not supported, and hence not available for Windows XP.
Installing IE9 on Windows Vista or Windows 7 will automatically replace and remove the existing installation of IE7 or IE8. IE9 and IE8 or IE7 does not co-exist alongside (yet, at least until hack available). So, for users who want to use IE7 or IE8, do not upgrade, or make available another PC or virtual machine just to run IE7 or IE8. However, uninstall IE9 should also automatically rollback to IE7 or IE8.
IE9 is available in both 32-bit (x86) and 64-bit (x64) versions. However, 64-bit edition can only be installed on 64-bit operating system.
To download IE9 Beta, visit http://www.beautyoftheweb.com/.
Beauty of the Web website releases a mini version installer that requires Internet connection during installation.