If the iPhone 4's antenna issues have turned you off from purchasing one, why not take a peek at the 4th generation iPod Touch, the iPod Touch 4G.
It sports all the cool features of the iPhone 4 like the retina display and dual cameras without the signal attenuation problems 🙂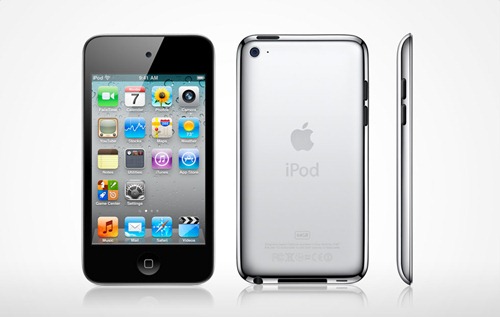 iPod Touch 4th Generation Specifications
3.5-inch multi-touch display @ 960×640 pixel resolution
1GHz A4 chip w/ 512 MB RAM
WiFi 802.11 b/g/n (802.11n is 2.4GHz only)
Bluetooth 2.1 w/ EDR
Three-axis Gyro
Accelerometer
Ambient light sensor
HD 720p camera @ 30fps w/ audio
VGA front-facing camera for Face Time
As noted in the specifications, the iPod Touch 4G can do FaceTime which means you can make a call to other iPod Touch 4G users or iPhone 4 users via WiFi for free.  Kinda makes Steve Jobs' point when he said that said the iPod touch is "an iPhone without a phone. It's also an iPhone without a contract."   By giving the new touch access to free video calls via facetime, then it's safe to consider the iPod Touch 4G an iPhone without the ongoing cost.

Apple claims the new iPod Touch can do 7 hours of video playback and 40 hours of audio.  The CPU and RAM upgrades will certainly be a welcome addition to anyone looking at the touch as a PSP or DS replacement.  That plus access to Apple's new Game Center, a part of the iOS 4.1.
Apple iPod Touch 4G official Philippine Price list:
iPod Touch 8GB – Php12,490
iPod Touch 32GB – Php15,990
iPod Touch 64GB – Php21,990
For international orders: 8GB for $229, 32GB for $299, and 64GB for $399.
The iPod Touch 4G are up for pre-order and will be available next week.