Several big names in the TV industry, Samsung, Sony, LG and others, are touting HDBaseT, a new audiovisual standard that looks to replace the HDMI standard while offering more bandwidth but keeping costs at a minimum. Now, you may be wondering how would a new cable keep costs down? HDBaseT will be using our trusty old CAT5/6 LAN cables instead of the more expensive (pricey… VERY pricey) HDMI cables.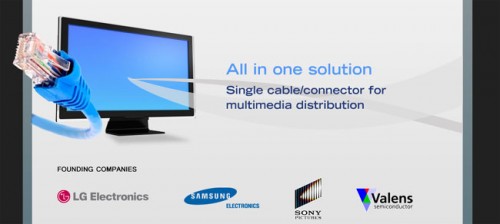 HDBaseT supports cable lengths up to 328 feet, can pass HD and 3-D video signals, as well as data through an integrated 100MBit Ethernet connection. Having this much bandwidth should allow for new internet-connected TV services, such as Google TV which delivers advertising-funded services to TV sets.
The new standard also aims to declutter the growing mess of cables in our households, replacing old standars like S-Video, HDMI, DisplayPort, RGB, etc.
The standard will begin its rollout later this year. The majority of its volume will hit in 2011. Check out the comparison table below: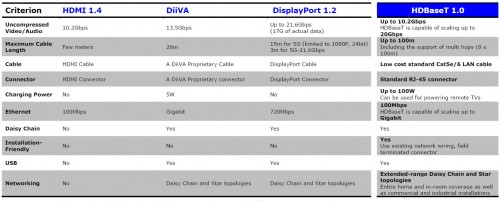 via Digital Trends