If you've been browsing around, the blogosphere, you've probably encountered the Wibiya Toolbar. It's a simple but powerful script that gives sites subscribers a lot of options to subscribe to, browse and share information from their favorite blog, forum or whatnot into their favorite social networking site. It's a boon to webmasters because Wibiya gives you lots of potential for gaining more readers and of course subscribers.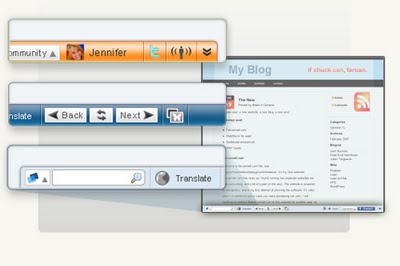 One of the great things about Wibiya is that it's platform agnostic. The least bit of control necessary to install it is access to your site's HTML template. The Wibiya Toolbar can be installed on wordpress, blogger, typepad, drupal, joomla, ning, vBulletin, and even in your custom website as well.
Wibiya BOASTS and PROMISES the following:
Boost your blog / website with rich and interactive features.

No coding needed
Add it in two minutes
Totally free!
Let's see if they're true to their words.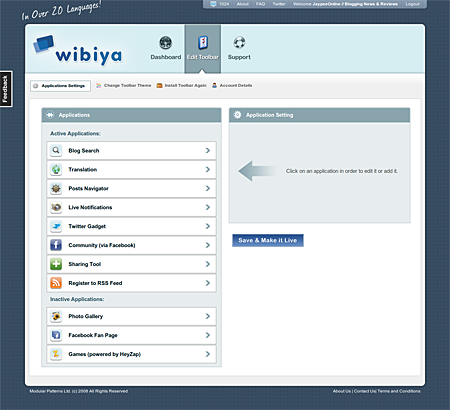 Looking at the photo (and the updated screenshot if you click the link on it), the Wibiya Toolbar seems packed with a lot of features. Here's a rundown of what it does for you and your site:
Search – Although you'd probably wouldn't want that if you're using Google's Custom Search Engine
Translation – via Wibiya's App (and via Google translate)
Latest posts
Random posts
Live notifications
Real time users – displays real time stats of your site's visitors
Subscription tools (RSS, email)
Custom Navigation
Sharing tools – your favorite social networking site is PROBABLY included here
Facebook fanpage and community
Twitter integration
Photo gallery
Youtube channel
So feature-wise, yes, Wibiya will help you boost your blog and spur activity. If not the subscription options, then the social networking features will probably do the trick so the toolbar passes this one. Of course, the toolbar's usefulness isn't limited to just making your site popular. The Wibiya toolbar also gives you quite a bit of information about your traffic and site activity right on your dashboard. Of course it won't replace your favorite analytics software, the stats mentioned only involves every activity that's included with the Wibiya toolbar. Lacking, but useful nonetheless.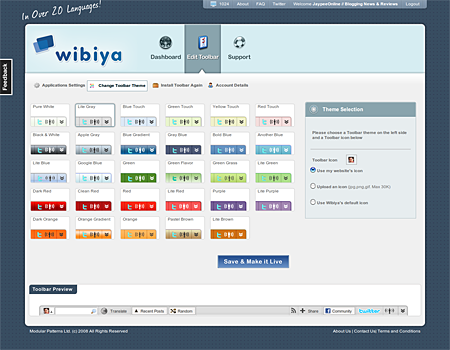 Now if you feel that the layout simply doesn't suit your suit's theme, you can change it with a simple click (ok, maybe I took a lot out of that since you still have to login, Choose Edit Toolbar then Edit Themes. Upon clicking, you'll be given the option to change your toolbar's theme and the favicon that it carries. You can try out the colors/themes without changing the live version of your toolbar as Wibiya provides a handy preview at the bottom. Once you're happy with your changes, simply click Update and the changes will go live instantly.
Now, so you've decided to register and install a toolbar on your site. Does it keep it's promise of being able to add it in just a couple of minutes? Surprisingly, yes. Registration is a snap, just provide the necessary details and you're added to their list of users. After that, you can customize your toolbar by choosing a theme and picking the applications it carries. And then finally, you can install the script on your site. Now note that there are several ways to install the toolbar. You can use the preferred method for the platform you're going to install it (WordPress, blogger, etc) or you can simply edit your site's theme, add the javascript code generated for your site and paste it just before the </body> tag.
Simple isn't it?
And last but not the least, the Wibiya Toolbar is absolutely free. There's no pro version so you're getting all the features everyone else is getting and that's not a bad deal considering there's very little effort involved in adding it, not to mention the potential benefits (note that I stress on the word potential :)). If you're looking for something to boost your traffic other than plain SEO, try it.
If you have comments, thoughts or suggestions about the Wibiya Toolbar, post it in the comments and let's discuss :).