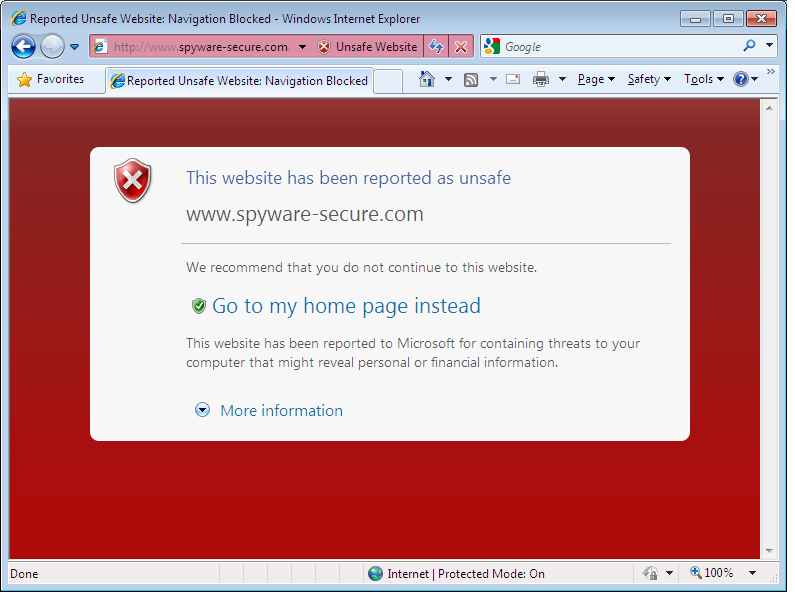 The Internet Explorer line might be the bane of developers the world over but there's no denying that it's latest incarnation is better than it's predecessors in more ways than one. One aspect that Internet Explorer 8 shines is security, it's the safest version of Internet Explorer to date. Yes, it's less secure than your favorite browser (Firefox, Opera) but it's definitely a step in the right direction.

One feature that keeps IE 8 users secure is SmartScreen. SmartScreen is designed to keep IE users from wandering onto malicious websites. It works by:
Checking Web sites against a dynamically updated list of reported phishing and sites.
Checking software downloads against a dynamically updated list of reported malicious software sites.
Helps prevent you from visiting phishing Web sites and other Web sites that contain malware that can lead to identity theft.
From the current stats, SmartScreen seems to be certainly keeping users safe, based on what Microsoft's Dean Hachamovitch posted on the MSDN blog.
According to Dean, SmartScreen blocks more than 2 million malicious URLs every day.
If you haven't updated to IE 8, get it now. It's a free download that'll save you and your family and friends (those that insist on using IE that is) a lot of headaches :D.