I was excited when I first heard that LG's new midrange android phone, the LG P970 Optimus Black was coming to the Philippines. LG failed me when I tried to procure the device as they're currently having the Optimus Sale and touting the Dual Core Optimus 2x instead of the unit I wanted which, if the timeline of the sale is to be followed, will be first available today. I got one off the gray market in less than 3 hours… (heh).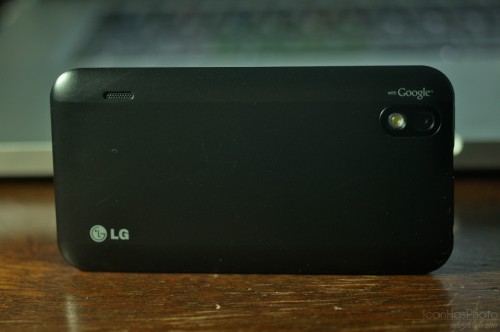 What attracted me to the Optimus Black was the screen (ok, the body first, the screen next).  It features LG's new display technology called the NOVA display, claiming that it's brighter than Super AMOLED which Samsung currently uses on it's high-end smartphones while consuming less power.  Looking that the Optimus Black with the screen turned off, it's easy to see where it got it's namesake.
The P970 is black all throughout (or a darkish grey overtone if you're really fickle about it) and sports a no-nonsense look of simplicity.  From the shot below, all you can make out from the face of the unit with the screen turned off is the capacitive buttons, the LG logo up top isn't even clearly visible.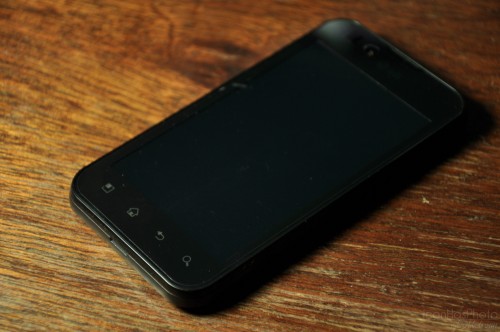 Note: notice the slight marring on the screen of the picture?  Yeah, LG stuck a really cheap screen protector on this one.  The scar happened when I accidentally rubbed my keys on it.  The screen itself is not scratched but the protector is flimsy at best that I'm considering to install an Invisible Shield on it… like TODAY.
Of course when you turn the screen on that's when the beauty of this phone flies: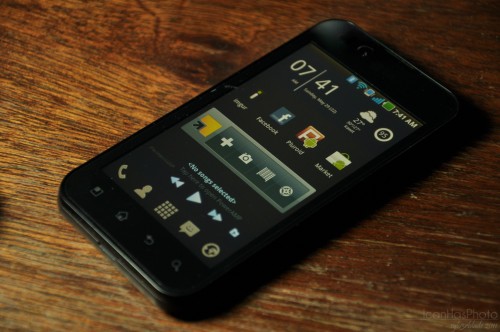 This is at 70% brightness.  I'll update the picture with another one with full brightness in a bit so you better wait up for that.
Blacks are much crisper, colors are more accurate and the display is simply brighter overall.  Now, of course that's just a subjective review on my part.  If you want a more technical look, you may want to checkout GSMarena's look into the NOVA display.
Outside of the Optimus Black
LG's decision to use aluminum for the back of the P970 presents both pros and cons.  In terms of pros, the finish looks stylish, no-nonsense and very, very attractive.  The downside?  It's a fingerprint magnet :(.  The finish also isn't scratch proof, something that's apparent in 2-3 days of owning the device.  Luckily, LG sells the back of these phones by order but you do have to wait awhile for a replacement.
The capacitive buttons work well and are sensitive enough to be responsible and even get pressed when the phone is in your pocket :/.
The overall design of the Optimus Black makes it a delight for the eyes.  First off it's THAT thin.  Here's the phone compared to my SHB-9000 headphones.  Up top, that's the Power/Unlock switch on the left and the microUSB adapter in the middle.  On the right there's a 3.5 mm jack and a small mic for noise cancelling.  Judging from how it fares with everyday use, it's doesn't compare to what highend phones give you but it is "good enough" considering the Optimus Black's price.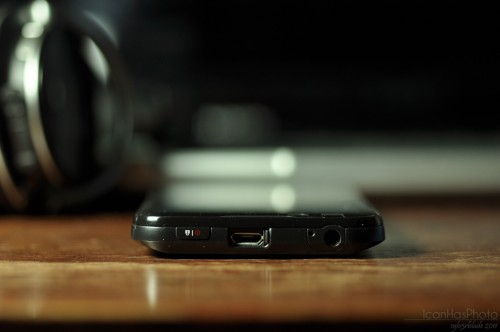 Here's another comparison with my headphones. Slim isn't it?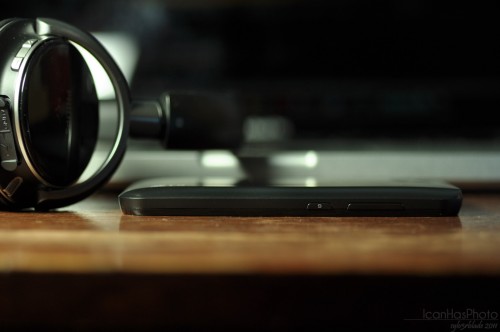 Notice the G button on the side?  That's for gestures built in to the phone.  You can't customize it right now (except for turning individual gestures on and off) and most of them only works with the pre-installed applications so that's a bit of a downer.
Inside of the Optimus Black
The P970 is powered by a Texas Instrument OMAP 3630 processor clocked at 1GHz.  Compared to the A8 Cortex (or even the A9) Snapdragon processor that most of the current phones use, it performs a bit slower in terms of crunching numbers (ergo the Black is more of a looker than a performer).  Still, at 1GHz coupled with 512 MB RAM, the P970 is no slouch either.  If you have the default LG launcher, you WILL experience a bit of lag with turning screens and over all response time (with regards to the homescreen only) so I really recommend installing a 3rd Party Home App like LauncherPro or ADW launcher.. unless of course LG's default widgets appeal to you.
The Optimus Black has 1GB for it's internal storage and ships with a 2GB microSD for free.
Here's the full spec list of the LG P970 Optimus Black:
LG P970 Optimus Black Specifications
Name
:
LG P970 Optimus Black
Processor
:
TI OMAP 3630 1GHz processor
Network
:
2G GSM 850 / 900 / 1800 / 1900, 3G HSDPA 900 / 1700 / 2100
Dimension
:
122 x 64 x 9.2 mm
Weight
:
109 g
Screen
:
IPS LCD capacitive touchscreen, 16M colors, 480 x 800 pixels, 4.0 inches, Accelerometer
sensor for UI auto-rotate, Proximity sensor for auto turn-off, Touch-sensitive controls, Optimus UI 2.0, Gesture UI 2.0
Camera
:
5 MP, 2592 x 1944 pixels, Autofocus, LED flash, Geo-tagging, Face and smile detection,
Video 720p@30fps, Secondary camera (VGA)
Connectivity
:
3G HSDPA 7.2 Mbps; HSUPA 5.76 Mbps, EDGE, GPRS, Wi-Fi 802.11 b/g/n, DLNA, Wi-Fi
Direct, Wi-Fi hotspot, Bluetooth v2.1 with A2DP, EDR, MicroUSB v2.0, 3.5 mm audio jack
Memory
:
1 GB internal, 512 MB RAM, MicroSD up to 32 GB external
Battery
:
Li-Ion 1500 mAh
Other features
:
Android OS v2.2 (Froyo) – upgradable to v2.3
SMS (threaded view), MMS, Email, Push Email, IM, HTML browser, GPS with A-GPS support, Java (via Java MIDP emulator), SNS, – Google Search, Maps, Gmail, YouTube, Google TalkGames, Digital compass, Document viewer, Organizer, Voice memo / dial / commands, Predictive text input, Alarm, Calculator, Calendar

Audio player (MP3 / WAV / WMA / eAAC+), Video player (MP4 / DivX / Xvid / H.264 / H.263 / WMV), Video recorder, MP3 & WAV ringtones, Stereo FM radio with RDS

Price
:
SRP Php 19,900
Taking pics with the Optimus Black
The Optimus black is equipped with dual cameras, a VGA front-facing camera for video calls and a 5 MegaPixel with single LED flash on the back.  In terms of image quality, the 5MP camera performs much like any other camera phone in the market: acceptable image quality in bright conditions. Here's a sample image from my phone (no post processing involved here except the resize, click the full image to see the original):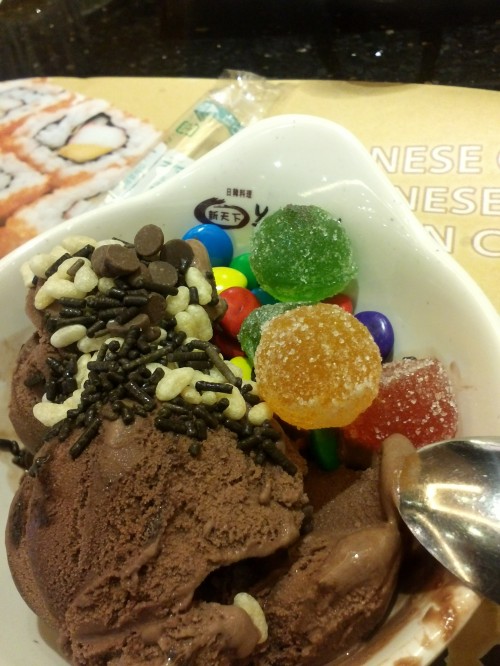 Not bad huh?  My dessert still looks tasty.
The camera has an autofocus motor but in low-light, it ends up hunting quite a bit.  As for video,  I haven't tried using it since it saves them in 3GP :(.
Nitpicks
I found two annoying bugs during my first few days of handling the Optimus Black one being the wonky Bluetooth driver and the other was it forgetting my time and date settings. The first one I can live with seeing (although having my SHB-9000 bluetooth headset sync better with my year old Spica without experiencing random disconnections was a bit saddening :() as it's a new phone and drivers are still in active development but the second one is a bit disconcerting. Basically if you turn off your phone, it forgets your current timezone (not the actual time and date but it's annoying).
Luckily, the problem was merely my outdated firmware. Turns out that currently, there are several software versions of the LG Optimus Black:
LG-P970-V09f
LG-P970-V09g – what mine shipped with
LG-P970-V10a – is the current public release
LG-P970-V10a is the latest firmware update available for the Optimus Black and is pre-installed on units sold after May 17th (that's the day I got my unit) :). So if your phone's version is below that, be sure to upgrade immediately using LG's software updater.
Verdict
Is it a good phone?  The current competition for the Optimus Black are the Samsung Galaxy SL,  HTC Desire S and Sony's Xperia Arc.  Here's a run down of pros and cons for each device compared to the Optimus Black:
| | | |
| --- | --- | --- |
| Phone | Pros | Cons |
| Samsung Galaxy SL | Just Php 17,000 | Basically a rebranded Galaxy S equipped with SuperLCD instead of Super AMOLED |
| | Better default experience (TouchWiz is a tad more mature) | |
| HTC Desire S | Better processor | Specs: Less RAM, smaller screen |
| | Android 2.3 | Priced above Php 25k |
| Xperia Arc | Better design, | Priced above Php 27k |
| | PSN integration | |
| | Android 2.3 | |
| | Additional Hardware controls for gameplay | |
Do you have comments or questions about the Optimus Black?  Post them in the comments.