It seems to be the unlikeliest of partnership but one that makes more sense than your average mash-up.
AMD has now announced a partnership with Valve that will see graphics driver updates appear on Steam.  Aside from providing you an alternative means of downloading ATI's latest drivers, the content distribution service will be able to "detect and install the latest ATI Catalyst driver for . . . ATI Radeon graphics card directly from within Steam."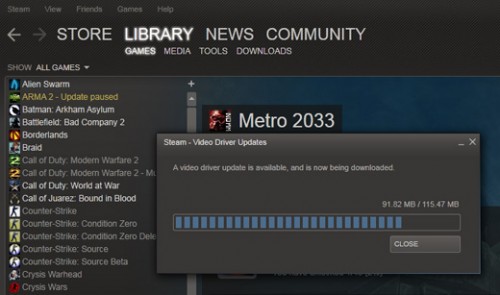 Aside from providing interoperability with Steam, the Catalyst 10.9 driver update improves performance in the S.T.A.L.K.E.R.: Call of Pripyat benchmark and Chronicles of Riddick: Assault on Dark Athena for Radeon HD 5700- and 5800-series cards. (The Riddick improvements apply to 4800-series Radeons, too.)
Also included in the Catalyst 10.9 release: Catalyst Application Profiles for Aliens vs. Predator, Battlefield: Bad Company 2, F1 2010, and Kane & Lynch 2, not to mention official support for the Internet Explorer 9 beta.
source AMD