Apple's latest creation has hit the tubes, a tablet PC built from an oversized iPod touch: the Apple iPad!  Silly name but an interesting product all the same.
Official specs are available after the jump
The Apple iPad specs:
Display: 9.7″ display screen with multitouch
Resolution: 1024-by-768-pixel resolution at 132 pixels per inch (ppi)
Processor: 1GHz Apple A4 Processor Chip
Storage: 16Gb to 64GB SSD
Connectivity: WiFi 802.11n + Bluetooth 2.1
Optional 3G: via new micro-SIM
Battery life: 10 hours battery life + 1 month standby (Apple claim)
Supported audio formats: AAC (16 to 320 Kbps), Protected AAC (from iTunes Store), MP3 (16 to 320 Kbps), MP3 VBR, Audible (formats 2, 3, and 4), Apple Lossless, AIFF, and WAVSupported file formats: .jpg, .tiff, .gif (images); .doc and .docx (Microsoft Word); .htm and .html (web pages); .key (Keynote); .numbers (Numbers); .pages (Pages); .pdf (Preview and Adobe Acrobat); .ppt and .pptx (Microsoft PowerPoint); .txt (text); .rtf (rich text format); .vcf (contact information); .xls and .xlsx (Microsoft Excel)
Audio options: 3.5-mm stereo headphone jack, Built-in speakers, Microphone
I/O options: Support for 1024 x 768 with Dock Connector to VGA adapter; 576p and 480p with Apple Composite A/V Cable, 576i and 480i with Apple Composite A/V Cable
via [Apple ipad microsite]
Running a modified version of the iPod touch/iPhone version of OSX, one of the tablet's strong suit is that it has access to ALL of the existing applications that's currently in the App Store.  Of course the tradeoff is that if you run a non-iPad compatible application, you'll end up with an app that runs full-screen on that 9.7″ screen in all it's pixelated glory.  Apple had already reworked some applications (and are likely currently doing makeovers on most of their first party apps) to work with the larger screen size and some of these (iBooks in particular) have already been demoed.
How does it handle?  The iPad is thin, just 0.5″ or 12.7mm and lightweight at just 1.5lbs making it handy and portable (though the size might make it hard to pocket :D).  It's basically (literally and figuratively) and enlarged iPod touch.  As for price?  The basic version is just double of the latest iPod touch iteration.
iPad WiFi 16GB: $499
iPad WiFi 32GB: $599
iPad WiFi 64GB: $699
iPad WiFi+3G 16GB: $629
iPad WiFi+3G 16GB: $729
iPad WiFi+3G 16GB: $829
So it's a tablet PC and Steve Jobs calls it the iPad. Think 6 times the size of the iPod Touch. Kinda funny name though. What say you?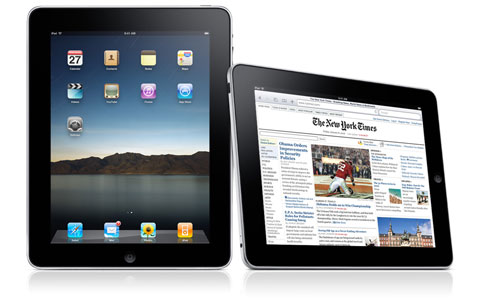 The shift to tablet computing may begin with the iPad as it's the first (for the year at least since tablets have been available since pdas)  tablet PC to reach consumers.  Will it start a revolution?  I honestly don't know but what I'm certain is that the iPad has had other companies (HP, Freescale, MSI, etc) polishing their upcoming offerings.  It's going to be a good year for tablets, whether you're going for an OSX-powered one, a linux-powered tablet or even a Windows 7-based slate.  What say you? 😀