Fresh news from the It's Only Rock and Roll event, Apple launches it's new fifth generation iPod nano. Encased in a polished aluminum and glass exterior, the new nano unit sports a new built-in video camera, microphone and speaker, allowing users to record H.264 VGA video (640 x 480 pixels) at up to 30 frames per second with AAC audio.

iPod nano is the world's most popular music player with over 100 million sold. And now we've added a video camera to its incredibly thin design, without any additional cost to the user.
– Steve Jobs, CEO of Apple.


Fifth Generation iPod Nano features:
Large 2.2-inch TFT display with 240 x 376 pixel resolution for your viewing pleasure
Shoot video with 15 real-time special effects – Sepia, Black and White, X-Ray, Film Grain, Thermal, Security Cam, Cyborg, Bulge, Kaleido, Motion Blur, Mirror, Light Tunnel, Dent, Stretch, and Twir
FM radio with live pause and iTunes Tagging – make it smarter than the average radio
Genius Mixes automatically creates up to 12 endless mixes of songs from your iTunes library that go great together
VoiceOver speaks the names of songs and artists, so users can navigate their music without looking at the display
Built-in pedometer helps you to meet your short and long-term fitness goals by keeping track of your steps taken and calories burned
Rechargeable lithium-ion battery supports up to 24 hours of music playback or 5 hours of video playback on a single charge
Available in 9 brilliant colors including silver, black, purple, blue, green, orange, yellow, (PRODUCT) RED and pink
Dimensions: 3.6 (H) x 1.5 (W) x 0.24 (D) inches ; Weight: 1.28 ounces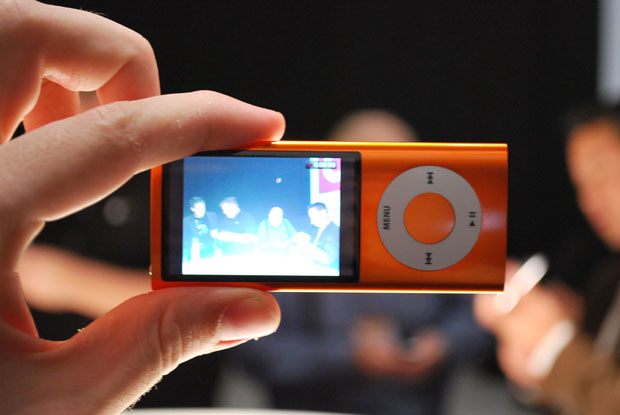 The new ultra-thin and sleek iPod nano (5G) that are available with 8GB and 16GB capacities for Php8,790 and Php10,490 respectively.
Anyone curious enough to get one?
images via YugaTech, Mangochico, CrunchGear