Motorola has officially entered the tablet market with the introduction of the 10.1″ Motorola XOOM tablet.  The company calls dibs on the title as the first (Honeycomb) Android 3.0-powered tablet and touts it's  powerful dual-core processor (each core running at 1GHz), which incorporates the latest Google Mobile innovations and enhanced user experience for multi-tasking, customization, browsing, widgets and etc.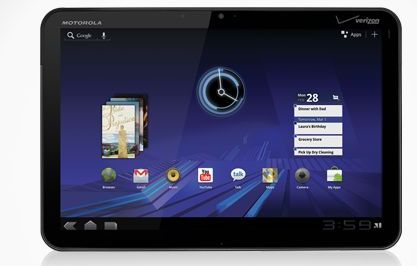 Features of Motorola XOOM:
10.1-inch widescreen HD display with 1280 x 800 pixel resolution
Dual camera – 5 megapixel rear camera plus 2 megapixel front-facing camera
Pre-loaded Google Maps 5.0 with 3D interaction
1080p full HD video support plus HDMI output
Integrated gyroscope, barometer, e-compass and accelerometer
Mobile Hotspot capability supports up to 5 other Wi-Fi-enabled devices
"Light, powerful and fundamentally different than anything else on the market, Motorola XOOM leverages the very best technology available today to redefine what a tablet experience can be," commented Bill Ogle, chief marketing officer for Motorola Mobility. "The first device to feature software designed specifically for tablets, Motorola XOOM goes everywhere you do and delivers everything you need."
Motorola also release a video to introduce the features of the Xoom tablet:
The Motorola XOOM tablet is scheduled to hit Verizon stores a 3G/Wi-Fi-enabled device in this quarter, upgradeable to 4G LTE in Q2 2011.