If you're on a budget and in the market for a DSLR, the D3000 may be right for you. The Nikon D3000 looks quite a lot like the venerable D40 but under the hood, it shares more similarities with the D5000 sans the articulated display and HD video recording.
The D3000 features a 10.2MP sensor, a new 'Guide Mode', an extensive Retouch Menu, an 11-point autofocus system and the company's EXPEED image processing system. There's also an Active D-Lighting system and 3D Color Matrix Metering II, not to mention 3D Subject Tracking and support for RAW images
The Nikon D3000 kit ships with a Nikkor 18-55mm f/3.5-5.6G VR lens.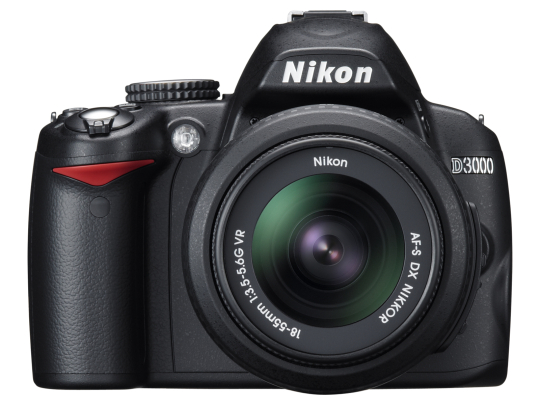 D3000 features:
10.2 megapixel DX-format CCD sensor and Nikon's exclusive EXPEED image processing system
Large, bright 3-inch (230,000 pixel) TFT LCD display
11-point Multi-CAM 1000 autofocus (AF) system
Split-second shutter response eliminates the frustration of shutter lag
Advanced 3D Subject Tracking continuously focuses on a fast moving subject throughout the frame
Nikon's extensive in-camera Retouch Menu allows for editing photos without the need of a computer
Stop-Motion Movie Mode enables users to choose a collection of images within the Nikon D3000′s Retouch Menu
Miniature effect changes the appearance of distant subjects to look like close-ups of miniature models
Nikon's 3D Color Matrix Metering II and Active D-Lighting system
IS0 range 100-1600 (expand to Hi-1 setting of ISO 3200)
Nikon's Integrated Dust Reduction System to clean dust from the image sensor
At the moment, the Nikon D3000 kit is priced at P 22,000. for the basic kit. Price and availability may differ from your favorite dealer.
info from Nikon USA