Fresh off Computex 2021, Nvidia has announced it's upgraded Ampere cards the 3080 Ti and 3070 Ti.   The GeForce RTX 3080 Ti will be launching on Thursday, June 3rd and the  RTX 3070 Ti will launch a week later on Thursday, June 10th.
What's not so great about this announcement not a year into the launch of the 3000 series of GPUs?  The 3080 Ti is priced at $1199 and the 3070 Ti is priced at $699. 
NVIDIA GeForce Specification Comparison
 
RTX 3090
RTX 3080 Ti
RTX 3080
RTX 3070 Ti
RTX 3070
CUDA Cores
10496
10240
8704
6144
5888
ROPs
112
112
96
96
96
Boost Clock
1.7GHz
1.67GHz
1.71GHz
1.77GHz
1.725GHz
Memory Clock
19.5Gbps GDDR6X
19Gbps GDDR6X
19Gbps GDDR6X
19Gbps GDDR6X
14Gbps GDDR6
Memory Bus Width
384-bit
384-bit
320-bit
256-bit
256-bit
VRAM
24GB
12GB
10GB
8GB
8GB
Single Precision Perf.
35.7 TFLOPS
34.1 TFLOPS
29.8 TFLOPS
21.7 TFLOPS
20.3 TFLOPS
Tensor Perf. (FP16)
143 TFLOPS
136 TFLOPS
119 TFLOPS
87 TFLOPS
81 TFLOS
Tensor Perf. (FP16-Sparse)
285 TFLOPS
273 TFLOPS
238 TFLOPS
174 TFLOPS
163 TFLOPS
TDP
350W
350W
320W
290W
220W
GPU
GA102
GA102
GA102
GA104?
GA104
Transistor Count
28B
28B
28B
17.4B
17.4B
Architecture
Ampere
Ampere
Ampere
Ampere
Ampere
Manufacturing Process
Samsung 8nm
Samsung 8nm
Samsung 8nm
Samsung 8nm
Samsung 8nm
Launch Date
09/24/2020
06/03/2021
09/17/2020
06/10/2021
10/29/2020
Launch Price
MSRP: $1499
MSRP: $1199
MSRP: $699
MSRP: $599
MSRP: $499
The GeForce 3080 Ti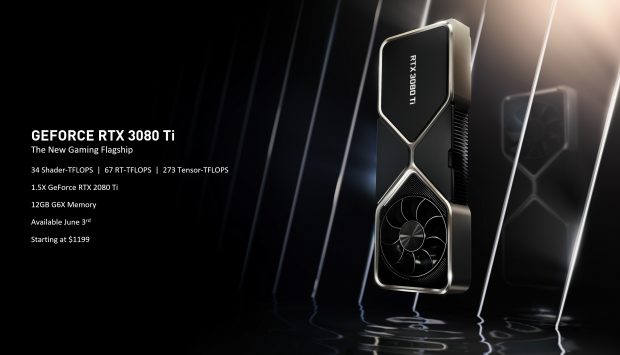 Nvidia's newest gaming flagship card receives a 2GB bump in VRAM, a larger memory bus, more ROPS, and a higher TDP compared to the 3080. Despite a lower boost clock, it still gets 4.3TFlops more performance when compared to the 3080. This of course is offset by a significantly higher price, the 3080 has an MSRP of $699 and the 3080Ti has an MSRP of $1199.
The GeForce 3070 Ti
Next in line is the 3070Ti. Interestingly enough, the 3070 and the 3070Ti only varies with the memory used. Same amount of VRAM, same amount of ROPs but Nvidia was generous enough to give it more CUDA cores.
The 3070Ti receives a price bump from the $499 price of the 3070 to $599.