The Mozilla team has released the final version of Firefox 7.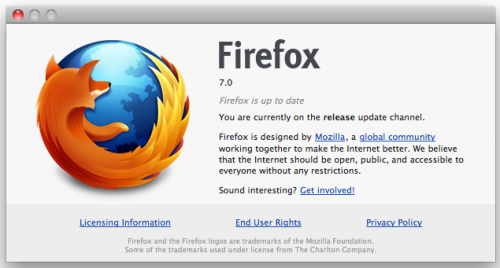 Firefox's latest build includes a lot of bugfixes as well the following changes:
Drastically improved memory handling for certain use cases
Added a new rendering backend to speed up Canvas operations on Windows systems
Bookmark and password changes now sync almost instantly when using Firefox Sync
The 'http://' URL prefix is now hidden by default
Added support for text-overflow: ellipsis
Added support for the Web Timing specification
Enhanced support for MathML
The WebSocket protocol has been updated from version 7 to version 8
Added an opt-in system for users to send performance data back to Mozilla to improve future versions of Firefox
Fixed several stability and security issues
Please see the complete list of changes in this version. Web and extension developers should also view the curated list of platform changes.
If you already have Firefox installed, simply run the Firefox Updater script to download the latest version.  Alternatively, you can download the latest version for your operating system using the links below:
Firefox 7.0 for Windows
Firefox 7.0 for Mac
Firefox 7.0 for Linux