With Firefox 4 still in Alpha testing, Mozilla is looking to introduce a new feature called Tab Candy. Mozilla's Aza Raskin says that it's still early in testing mode but you can get it with the latest nightly build of Firefox 4.

The embedded video gives a full overview of Tab Candy: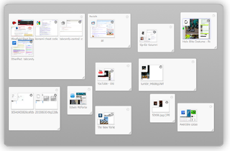 Tab Candy gives Firefox something like Apple's Expose feature mixed with their Spaces feature. For those who don't use a Mac, it's the OS's feature that allows you to zoom out and get a bird's-eye-view of all your windows (in Tab Candy's case it's tabs) that are open which you can interact with by clicking, dragging, etc.
While Tab Candy is an interesting feature, one has to wonder how much resources this will require for the final build. Still, it's an interesting take on tabbing. One that I hope won't be killed by an errant lawsuit. 🙁
You can get Firefox 4 with Tab Candy from a very early nightly right here.
Important: This is still in alpha so expect bugs, resource hogging, unstability, etc.