Want a netbook and a tablet in one? Dell might have the right gadget for you with the Inspiron Duo convertible tablet.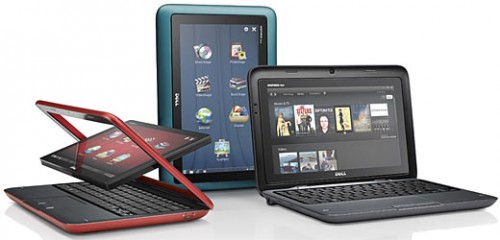 Like most of the newer netbooks, the Inspiron Duo sports the usual innards of 1.5GHz dual-core N559 Atom, 2GB of RAM and a Broadcom Crystal HD accelerator for Full HD video, 250GB drive, 2GB RAM and Windows 7 Home Premium. The screen on the Inspiron Duo is a 10.1″ unit, but offers 1366×768 pixels. While a novelty, it could be a bane for folks with poor eyesight.
Unlike Lenovo's take at the convertible tablet with it's swivel display lid, the Inspiron Duo allows you to flip the display and close the lid to use it in tablet mode. When you do this, a Stage user interface, the finger-friendly UI borrows heavily from the software included with Dell's smaller Streak tablet, pops up automatically.
Price for the Inspiron Duo, as with most netbooks with nonstandard features, is a bit on the hefty side at $549. This netbook hybrid will be available starting December.