Google has just announced the latest release of the Android platform, version 2.2 and codenamed Froyo, during the Google I/O event. Many Android users are highly anticipating this release, not only for bug fixes but also the new features that Google has promised.
Is it worth the wait?  Will your phone support the new update? Find out more after the jump 😀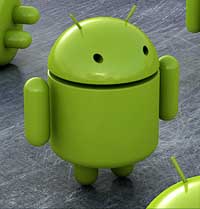 Improved Speed – The new Dalvik JIT compiler for Android 2.2 is significantly (2x-5x) faster than the JIT used in 2.1.
Better Enterprise Support – FroYo will include over 20 new enterprise features to appeal to the business-types like better Exchange support, with auto-discovery, improved security, and GAL lookup, and new device admin APIs.
Cloud-to-Device API – Better syncing and support for more google services/products. Apps can utilize Android Cloud to Device Messaging to enable mobile alert, send to phone, and two-way push sync functionality
Tethering — This was also a rumored feature for a few weeks. The feature will be in the "settings" menu, and clicking "portable wi-fi hotspot."
Improved Browser — The Javascript interpreter in Chrome will be used in FroYo's native browser, offering a 2x-3x Javascript performance boost. Google's Vic Gundotra said it will be the fastest mobile browser available.
Install apps on SD memory – This one of the few reasons why you'll want to root your phone in 2.1, in 2.2, the ability to choose where your apps are located (in your device's memory or on your SD card) is now included.
Flash 10.1 and AIR support – Announced before but still a welcome upgrade.
Web-based Android Market – Upgrade for the Android App Store.
App auto-updating – Apps you have installed will now have the option to be updated manually or automatically. No need to hunt the latest version in the marketplace from now on.
Music Sync – Users will be able to sync their local music collection with their Android device and stream wirelessly.
Didn't get all that? How about a video to help you understand things a bit better:
No final word as to when Google will be releasing the update but they assured us that they'll be announcing this (the date) as well as a list of which mobile devices will be capable for upgrade to Android 2.2.
Personally, I'm quite happy that my Samsung Galaxy Spica has been updated to Android 2.1. Having it supported for Android 2.2 will really, really, really be the biggest boon for me (aside from getting the device for free of course).