Mobile phones like Nokias are so popular that they're even getting imitations, much like software available only.
They say that imitation is the best form of flattery but when comes to products, imitations are bootlegged or pirated copies of actual products that have subpar or worse quality. Buying one is a waste of money and time.
Fakes are Cheap
Yes, bootleg phones may cost a whole lot less than original phones but that's only because manufacturing them is cheap. How? Sub-standard parts (and cheap labor, most are from Chinese companies), which also means that these cheap imitations does not perform as well as originals and that their lifespan is quite short.
What's the point of buying a substandard phone when you'll have to dump it in two months?

What Nokia has to say?
According to Nikka Abes, Corporate Communications Manager for Nokia Philippines:
The latest phone models like Nokia N81, Nokia 5310, Nokia N95, Nokia N82, Nokia 6120, etc. are being sold at a 1/2 to 1/3 of the original price. They're branded Nokia and sometimes even the packaging is made to look like the real thing. Some are being brought to the Nokia Care Centers for repair and of course, because they are fake, they are turned down.
Nokia has also provided some guidelines in checking a phones legitimacy before and/or after purchase.
Warranty
Nokia mobile phones bought in the Nokia Store or from its authorized dealers have a blue 12-month limited warranty sticker from Nokia Care slapped on the top or side parts of the phone's box .A Nokia Care Tamper Proof warranty sticker is also found in the mobile phone's accessories such as the charger, battery, memory card, or data cable.
Stamp of Approval
All Nokia phones bought from the Nokia Store or any of its authorized dealers have a Tamper Proof Type label at the back of each mobile phone along with the NTC logo and the Type acceptance number as part of one sticker. Also found in the back of the mobile phone is the Nokia tamper proof Warranty Seal.
Battery
To see if your battery is the real thing, you have to make sure the hologram label reflects the Nokia Connecting Hands at one angle and the Original Enhancements logo at another angle. When you angle the hologram on the left, right, down and upsides of the logo, you should see 1, 2, 3 and 4 dots on each side respectively.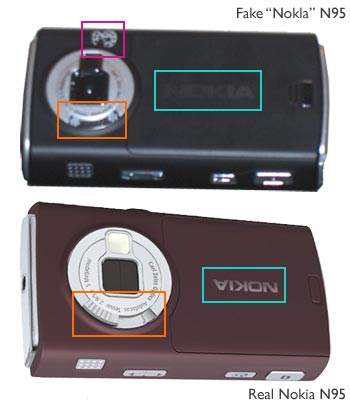 Now if you're really THAT meticulous or careful with your purchases, here's a few more guidelines that you can follow:
Price – This should be the very first thing you should look at. If the price of the phone is way cheap, half or a even third of the original price, it's most likely to be a scam.
Weight – Check out the official specs of the phone you are purchasing/have purchased and compare. Fake phones tend to weigh lighter than original ones.
Color – Some Nokia phones come only in limited colors (out of the box, not referring to phones already attached with custom housings) so if it's an odd color, be wary.
Missing/Added features – Features are mostly the reason we buy mobile phones so do a cross-reference with the features on the phone with the official spec list. Although imitations may copy the features list, they're still man made so flaws are still present. Check the pic above for an example on Added features on a bootleg phone.
Unofficial Models – The disadvantage of having SO MANY phone models is that it's easy for imitations to choose a phone family as a niche and start creating non-official models that you can't find on the officials manufacturer's catalog (for example, if you an N74 model, its 100% fake since it's not on the Nokia or even the Nseries site.)
Keep your receipt – Not only will it be your "proof of purchase" when claiming warranty, it'll also save you time in remembering the store where you bought your phone. If you've found that your phone is a fake, you can use the receipt as evidence when you report it to the proper authorites.
Hope that helps.