Google has finally released it's own brew of it's URL shortening service to the public.  Dubbed as the Google URL Shortener (goo.gl), it has been part of the Google Toolbar and Feedburner syndication service at launch, slowly making it's way into other Google products like News, Blogger, Maps, Picasa Web Albums, and Moderator.  Since people love the service so much, Google has finally released it for public consumption, claiming that goo.gl is the stablest, most secure, and fastest URL shortener on the web.  Their words, not mine 🙂
Google touts the following features for those having second thoughts about switching from other popular url shortening services like bit.ly:
Stability: Near 100% uptime since our initial launch with continuous work behind the scenes to make goo.gl even stabler and more robust.
Security: Automatic spam detection based on the same type of filtering technology we use in Gmail.
Speed: Can't get more self-explanatory that this.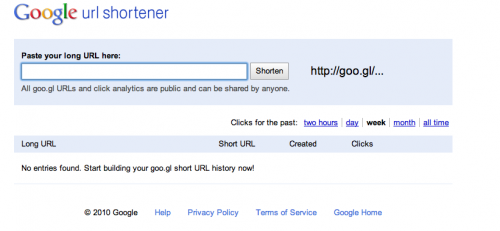 To access goo.gl, just type it into your browser's address bar.
If you have a google account, you can sign-in and use goo.gl and have it save your past shortened URLs.  For those who love numbers and analytics, clicking the details link next to any of shortened URL will give you public, real-time analytics data, complete with traffic over time, top referrers, and visitor profile.
Goo.gl extensions are already available for Chrome and Firefox.
source Google Social Web Blog