Are you a stickler for buttons on mices?  How many buttons does your mouse have? 4?  5?  7?  How would you like an 18-button mouse?
Yes, let that sink in slowly.  An…. 18….-button… mouse!
The WarMouse promises a revolutionary approach to computing with a mouse that has 18 buttons, an analog joystick, scrollwheel, and up to 52 programmable commands.  Full feature list after the jump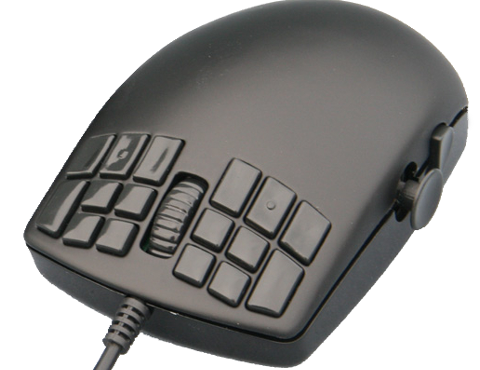 According to WarMouse (the company), this 18-button wonder offers:
18 programmable mouse buttons with double-click functionality
High-resolution laser sensor with resolution adjustable from 100 to 5,600 DPI/CPI
Five assignable button modes: Key, Keypress, Macro, Mouse, and Mouse-Key Combo
Analog Xbox 360-style joystick with six analog and digital settings
Clickable scroll wheel
512k of flash memory
64 on-mouse application modes with hardware, software, and autoswitching capability
1024-character macro support
Meta Modeware for creating, managing, and customizing game and application modes
Import and export of custom modes in XML format
Taskbar display of active application mode
PDF export of application mode button assignments
Graphical pop-up map of application mode button assignments
64 default modes for popular games and applications, including Mozilla Firefox and Thunderbird, Microsoft Word, Excel, and Outlook, OpenOffice.org Writer, Calc, and Impress, 3D Studio Max, Autodesk AutoCAD, 3DS Max, Adobe Photoshop CS4, Adobe Reader, the Gnu Image Manipulation Program, Aion Online, World of Warcraft, Counter Strike, Call of Duty: Modern Warfare 2, and the Multiple Arcade Machine Emulator
Good heavens… and that's not even the best part.  THIS MOUSE HAS 18 FRICKIN' BUTTONS!  Oh wait I said that at the top… but it's worth repeating.  The WarMouse has 18 programmable buttons!
What do I do with it?
Aside from bragging rights, the really best use I can think of is for people with handicap or lost limbs who can compensate their disabilities with a fully programmable thingamajig.  That however, isn't how WarMouse is marketing the WarMouse (no pun intended).  It's marketed as a do it all mouse….  Can you see yourself using this thing?  I can't think of any practical use other than a prank 🙁  What about you guys?  Comments?