Mozilla has released Firefox 4 beta 1, the first public, stable version of its next major browser.  4.1  features a brand new UI with tabs on top (reminiscent of Chrome) but adds more HTML5 support as well as Google's new WebM open video standard.  Another improvement is that plugins are now both easier to manage and no longer need a browser restart to load.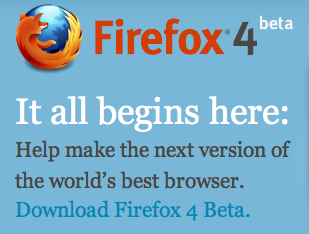 Other features of Firefox for include:
WebSockets
Basic hardware graphics acceleration
improvements to the CSS3 and JavaScript renderers
HTML5 Support
Web Console
JetPack SDK (Making Add-On Development Easier)
Indexed DB
Crash Protection
Mac users get OOPP-based plugins compatibility
Firefox 4 Beta 1 is available Linux, Mac and Windows systems today.  Mozilla hasn't indicated when the RC or final build will be released.  For now, we can play with the Beta until a new version comes along.
You can download Firefox 4 beta 1 using this llink