Intel has officially announced the details of the next revision of it's thunderbolt connection standard and it builds on top of both Thunderbolt 3 and USB 3.x.
TB4 won't be giving us a speed boost — it's still capped at 40 Gbps — but in the consumer space, that's already a lot of bandwidth to do almost anything. Instead, we get a universal standard that does away with most of the headaches that plague us when buying USB-C or Thunderbolt 3 cables and peripherals.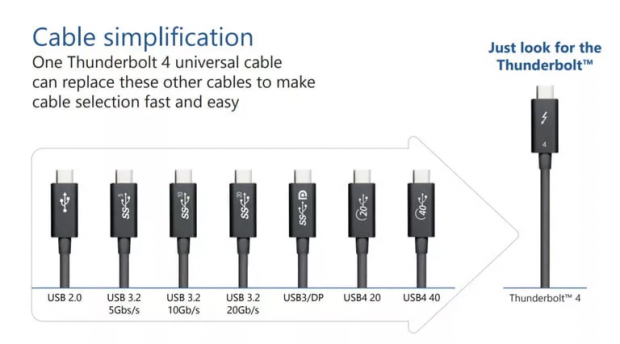 Thunderbolt 4 will allow computers to support either 2x 4k displays or one 8K displays alongside PCIe transfer speeds of up to 32Gbps – double of what the current TB3 and USB4 standard allows — this means we can expect Thunderbolt 4 equipped docks and monitors to ship with upto 4 Thunderbolt 4 ports.
The best part is all cables that are Thunderbolt 3 compliant will also work on the new standard.
Continuing with it's decision with a royalty free standard for Thunderbolt 3, Intel says it will not charge royalty or licensing fees for the Thunderbolt specification — meaning OEMs that don't use Intel chips can add it on their products, provided they pass the certification.
from Intel