Advanced Micro Devices  (AMD) has just announced that their AMD-branded memory modules will soon be shipping via strategic partners in the US.
For years even before the ATI acquisition, AMD has been supplying the memory modules for Radeon GPU's production-line, making them a pretty big market-player in the memory industry behind the lines.  The company claims that they have used the AMD OverDrive performance optimization tool to test and optimize DRAM in conjunction with their APUs, CPUs, GPUs and chipset platforms.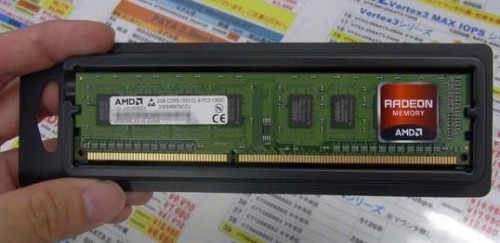 For those interested in trying them out, AMD's DDR3 memory modules will be available in 2GB, 4GB and 8GB capacities and each will be available in several variants:
Entertainment
Performance
1600MHz in matched pairs
1866MHz in matched pairs
The high-end performance modules are are tuned, tested and certified for specific AMD platforms.
No word on pricing yet but AMD's memory DIMMs wil be available through major retails including Amazon.com, Bestbuy.ca, Fry's, Memory Express, Micro Center, NCIX, Newegg, Tiger Direct, VIP Computers (UK) and others in the near future. s
source AMD